Guided New Zealand Tahr Hunting
Tahr "Hemitragus jemlahicus" like all New Zealand's other big game animals were introduced into this country. Tahr were liberated in 1904 in the Mount Cook region of the South Island from Woburn Park in England.
They are a native of Northern India. Tahr were introduced here as part of the Department of Tourist and Health Resorts efforts to encourage overseas hunters to visit our shores. However, it was not until the late 1950's early 1960's that the legendary storyteller, author and hunting guide Rex Forrester, put Tahr on the top of the list of big game animals that overseas trophy hunters came to our shores to hunt.
Type of hunts offered: Spike camps on Crown land:Spike camps are great for putting you close to the prime hunting area. These campsites are often in remote locations and could take anything up to 3 days to access backpacking. While I do offer this option, most of my clients prefer to take a helicopter ride into and back out from these camp sites along with all the gear including a few creature comforts.
Cabin based Private land hunts: Private lands hunts do come with a trophy fee but have the advantage of a cabin instead of an alpine tent. Four-wheel drive vehicle access so no helicopter costs. Good animal numbers with a lot less hunting pressure which greatly improves you success rate.
Helicopter drop off pick up day hunts: this is not a heli hunt ..rather the hunter and guide are dropped off in prime country for the day and picked up again in the late evening. For hunters short of time this is sometimes your only option to obtain a fair chase trophy.
Client Testimonial: "We are 3 Norwegian hunters that spent a week Tahr hunting with John. We got 2 trophy bull Tahr each and we saw over hundred in total that week. John is a very skilled and clever guide. We had great service and food. A few wet/cold river crossings.(that's the half star) will absolutely recommend a guided trip with John." Frode I. Bergen, Norway.
Mature Bull Tahr are big animals and can weigh as much as 300lbs. Both male and female Tahr have horns which they retain for all their life adding a new growth ring each year.
Tahr have a well-developed sense of smell, excellent hearing and exceptional eyesight, a point that hunters need to bear in mind. The best time to hunt for a Bull Tahr is late March through to the end of July with the mating period reaching its peak May – June.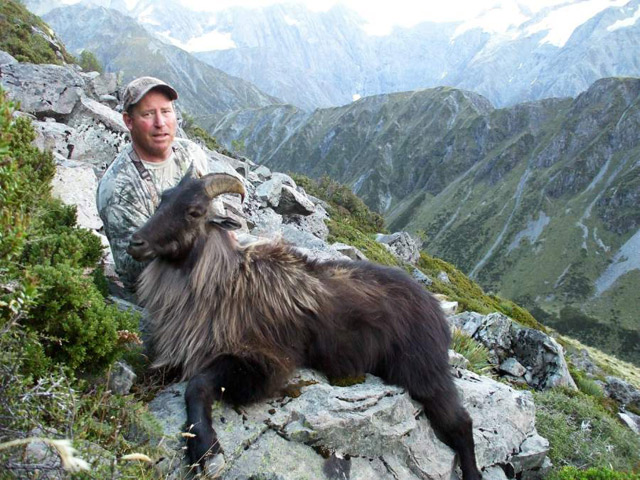 Summer hunting in November when the bulls are grouped up together can also be a productive time to visit. (Tahr have sometimes been incorrectly miss spelt THAR in some Publications).
I first hunted Tahr back in 1989 and I will never forget that first evening sighting a massive bull high up on a bluff system and as I watched he just leaped down a sheer face with his feet touching seemingly impossible foot holds, as he charged down to safety. Ever since that day I have been hooked on Tahr hunting, stalking numerous trophies for myself, friends and now clients from all around the world and I still get that same thrill as that first encounter, when I see a good bull.
Client Testimonial:
I spent 4 days hunting for tahr with John in late April 2010. John is an excellent guide and a very skilled hunter. We saw good numbers of tahr and with John's assistance I harvested 2 very good animals. The country is breathtaking and the hunting very physical so you need to be well prepared. I have no hesitation in recommending a guided hunt with John Royle and I thank him for a very memorable experience. Darryl O'Keefe, Kaiapoi New Zealand
Client Testimonial: "We have done a lot of hunting in New Zealand but we have never been Tahr hunting. We found John Royle on the internet. We decided a guided hunt was the best way to realise the dream. It was simply an unforgettable experience. He is a remarkable man with so much experience that he was happy to share. The hunting was exciting and extremely challenging at the same time. It is easy to see why a free range hunted Bull Tahr is New Zealand's No 1 trophy. John was able to give us both the opportunity to take such a great trophy. John's sense of humour, remarkable work ethic and excellent company made the whole experience truly special. We would totally recommend a hunt with John Royle. Every time we look at that magnificent trophy bull hanging on the wall we secretly smile on the inside and remember the trip of a life time and a job well done". John and Andrew Mills, West Eyreton, Canterbury.
Client Testimonial
"I went hunting with John Royle for one day while on holiday with my family in Geraldine. I had never been Tahr hunting before however always wanted to and to find someone as experienced and knowledgeable as John was excellent. To say that I had learnt a lot would be an understatement. Throughout the day John talked through many aspects of Tahr hunting and the terrain of where we were hunting. John was able to see Tahr where all I could see was rocks. We saw 25-30 Tahr, 4 Red Deer and a Wallaby. My main aim had been to at least see some Tahr in real life and not just read about them in the latest hunting magazine. Well in fact I shot 2 Tahr and 1 Wallaby. One 10 ½ inch Bull Tahr – I'm still smiling. The day was well worth the cost and a great experience. I would highly recommend John as a guide and intend to go again next year, maybe next time for some Chamois. Thanks again John for an amazing memory". Grant Sime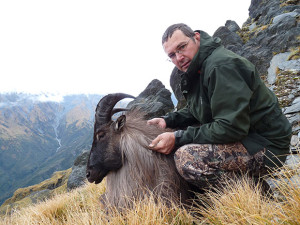 Hunting Tahr with John Royle
I hunted Tahr with John Royle for my 40th birthday and my only regret is that I hadn't done it sooner. John provides a complete service from arrival to departure and gives his all for his clients. My hunting partner and I hunted Tahr with John for five days on the west coast. In that time we saw 30-40 bulls and took two great bulls each. My best bull was a whopping 13 ¾ inches.
We thought we were well prepared but it is a very physical hunt and a case of mind over matter at times. John is great at getting the best out of his clients as we were regularly out of our comfort zone. John has a magnificent understanding of the animals that he hunts and an appreciation of the country they live in.
John runs a comprehensive outfit that offers excellent value and incredible results. Highly recommended. Troy Crittle May 2013