About John Royle, NZ Hunting Guide
I am an outfitter member of the 'New Zealand Professional Hunting Guides Association'. As a paid-up outfitter member I hold a concession to legally operate as a hunting guide on Department of Conservation Lands.
I have been guiding hunters since 2006. As a teenager, I started hunting professionally back in the early 1980's working for the government culling both Red and Sika deer, goats wild pigs and feral cattle – working both the North and South Islands. In the winter I hunted possums for their skins. It was a career I had for over 17 years.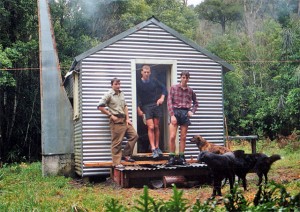 In my early culling days we worked in remote places for up to 5 weeks at a time camping in pairs but hunting alone each day, with only my trusty hunting dog Basil for company.
"The country we hunted was rough and our camps very basic, it took a special person to do this job for a long time. However, in spite of the hardships I feel I have been rewarded with countless memories of some very special back country places, something I try to share with my clients". John Royle
Towards the end of my culling career, I worked with Jason Diedrichs in the lower North Island. Jason went on to become a very good hunter and is a top bloke to work with despite the fact that he still forgets that I don't take sugar in my BREW! He is now a helicopter pilot and the owner of Amalgamated Helicopters. Jason and I now work together on offering guided hunting trips for Red deer in the lower North Island. You can check out his website of Red deer trophies on www.amalgamatedheli.co.nz.
In recent years I have myself become interested in trophy hunting overseas and have to date hunted in Africa, Australia and the United States. This has given me some real insight into some of the many difficulties faced when planning and implementing overseas hunting trips. Something which I have been able to use to improve the services I provide my own clientèle.
Client Testimonial: "We hunted with John Royle in 2008 for Tahr. The knowledge and hard work that John brings is unmatched. If you want a true free range adventure this is it. While in New Zealand we learned that most hunts were done by helicopter, something we were not interested in doing, we wanted a fair chase hunt and we were extremely lucky to find John. John took us into some of the best country N.Z. has to offer. We saw 5 to 10 bulls a day along with chamois. His ability and knowledge was instrumental in our success of harvesting 3 mature bull tahr a chamois, and a archery wallaby. He is one of those guys who become a friend, and not just a guide". J.C.Hover & Ryan Owens, Mike Waddell, Phoenix Arizona, U.S.A.
"John Royle is the real deal. It has been said before and will be said again. If you are looking for a real hunting experience, one that will genuinely challenge and reward you, look no further. John's energy, commitment and experience are contagious. He has encyclopaedic knowledge of the gorgeous areas you will hunt on and the creatures you will be stalking. As a guide he is superlative but the factor that lets me endorse him unequivocally is that he is a great guy to boot. Decent and with a great sense of humour you will learn from this man and enjoy yourself at the same time. 10 out of 10." Erik Leedom
Character Reference John Royle
Dear Sir / Madam,
I have known John Royle since 1989, I worked with John for the Department of Conservation as a professional hunter in the lower North Island mainly Rimutaka and Tararua Forest Parks on animal culling operations.
Our job description at that time was wild animal control of pest species deer, pigs & goats, John proved to be an exceptional hunter, bushman and a true professional in his occupation.
John and I worked together for 5 years, John continued with DOC, I left to pursue a career in aviation and now own Amalgamated Helicopters (NZ) Ltd, we are both still involved in hunting and the NZ Backcountry.
It is my experience that John is someone to be depended on in the backcountry, his skill level, knowledge of survival techniques and decision making ensure sound judgment calls and positive outcomes in locations that can become life threatening very quickly.
In group situations, John has the experience to anticipate not only environmental conditions but the level of ability, both hunting ability and the fitness level of individuals in his groups tailoring the experience accordingly, this experience keeps safety at the forefront of any trip into the NZ backcountry. I would have no hesitation to recommend John to anyone wanting a hunting guide.
If you require any further information please feel free to contact the writer
Regards
Jason Diedrichs
Director / Chief Pilot
AMALGAMATED HELICOPTERS (NZ) Ltd.