Welcome to Canterbury Tahr Hunting Guide
Come on an authentic New Zealand guided hunt with me, John Royle, for trophy Tahr, Chamois, Red Deer, Feral Goats and Wallabies. We offer a wide variety of hunts from free range on crown and private lands to estate hunting for Gold Medal Red Stag and Bull ELk.
I have over 17 years of experience as a professional hunter - 13 of which as a government culler hunting many types of game all over New Zealand.
"When you hunt with me you will benefit from a wealth of local hunting knowledge.  I know the best areas to hunt and where to find the animals that live there, enabling me to maximise your chances of success". John Royle, NZ Hunting Guide
I believe successful trips are also about having great memories of your hunting trip, as well as giving you the opportunity to get a trophy animal. The country I will take you into varies from the rugged mountainous country with no fences to the easier gently rolling lands on estate properties wherever we go it will be breath-taking and generally has good numbers of animals.
As your New Zealand hunting guide, I will do my utmost best to help you procure trophies, but the animals I will take you after are wild meaning much will depend on luck, your level of fitness and shooting ability. What I can guarantee is that you will have a great time.
What New Zealand offers the overseas hunter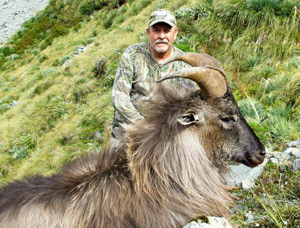 One of the major differences in hunting game animals in New Zealand compared to overseas hunting is that you can hunt all introduced game animals all year round and shoot as many as you like of either sex. This constant hunting pressure makes our game animals so much harder to hunt (and why you need a guide with local knowledge). Contrast this with places like the US or Europe, where animals are indigenous and tags are brought or balloted for a few animals over a very short season.
As your hunting guide, I will choose the hunting area and the time of the hunt. During the day I'll lead the party out in search of the quarry, assesses any animals seen, their trophy potential and plan the stalk. Many overseas hunters have never crossed a river before coming to New Zealand so I will teach you safe river crossing techniques. Back at camp, I'll cook the meals as well as other camp duties required. However, I actively encourage my clients to get involved in these duties as part of the overall experience.
Frequently Asked Questions
What does it cost?
All of our hunts are charged on a daily rate  (I can take up to 3 hunters at one time on the same rate plus expenses).
Trophy fees
The Canterbury Tahr hunting Guide as an Outfitter member of the New Zealand Professional Hunting Guides association Inc. holds a Hunting Concession to commercially operate on Department of Conservation (Crown lands) Only Outfitter Members of this Association hold this concession. Any out operator that's not a member is doing so illegally including all overseas-based outfitters unless they are going through one of the NZPHA members. As part of this concession, a trophy of NZ$150 per Tahr and NZ$100 per Chamois and NZ$1 per stag is paid to the crown by the operator to the crown. Some small games species are exempt such as Pigs, Goats and Wallabies.
**Important  Canterbury Tahr Hunting Guide is a concession holder to legally hunt on DoC lands (crown or public land) as part of that concession a trophy fee of NZ $150 per Tahr, NZ$100 per Chamois and $1 per stag taken, must be paid by the concession holder to crown. In addition, DoC charges a daily guiding fee of NZ$15 per day per client. Only registered Outfitter members of the New Zealand Hunting Guides Association hold this concession to legally hunt on DoC Lands. To simplify any quote the Trophy fee is not included in the quote but charged for at the end of the hunt when the number of trophies is known.
Helicopter Access
Most of our camps on mountain hunts on crown land are accessed by a helicopter that means no backpacking and puts you straightaway into the prime hunting area.
Each campsite has a different flight time and almost all of the different operators I use have a different type of helicopter with a different charge out rate.
So depending on when you ask me how much to fly into Tahr or Chamois country you are going to get different price options to go into different areas depending on the time of year and the number of hunters going.
Tour packages and activities for non-hunting family or spouses:
For many of my overseas clients it is often their first trip to New Zealand and so often they may wish to see a little of our beautiful country as well as the hunting camp. There is nothing like local knowledge as a professional hunter with over 25 years experience I have travelled to all the corners of both Islands but mostly in the South Island. I also have a wealth of contacts. If you are interested in making use of my local knowledge I can either arrange for private tours and accommodation before and after the hunt or give you some good advice.
What rifles should I bring?
I recommend that you bring your usual deer hunting rifle that you are most conformable using. I have rifles available for hire for a small fee if required.
What else should I bring?
Warm hunting raincoat, binoculars, sleeping bag, as well as other general camp gear. If in doubt just ask and I can email you a gear list or check out my gear list page.
How long are the trips for?
For Tahr, Chamois and deer you need to allow a minimum of 5 days per species. In the wild, they don't tend to live in the same paddock. For other games species, only a day or to is necessary.
What will the terrain be like and how fit do I have to be?
Where I take you depends on your level of fitness and age. What I do recommend is that hunters take on a fitness training program before they come here. Not only is this necessary to get to the animals but also you will want to enjoy your time here. For the hunter on a limited time frame, we can tailor a shorter trip for you.
Client Feedback: "It is a physical hunt, one that you need to be in good shape.With that said you wont find a harder working guy than John Royle. These bull Tahr live in some very steep and big country and you need to be prepaired both mentally and physically. Just getting into the country can be an adventure, driving up an old glacier-made river bottom with at times, no sign of a road. The food was good and the scenery fantastic. As with any mountain hunt the weather can change fast and there might be some unhuntable days. This is the real deal and the costs are extremely reasonable." J.C.Hover & Ryan Owens, Mike Waddell, Phoenix Arizona, U.S.A.
Testimonial from  Paul Brown
"I hunted with John Royle for 5-days in 2017 looking for a bull tahr. I chose John after initial enquiry of three outfitters because of his detailed response and the broad range of options. John provided an excellent service throughout. I chose a helicopter fly-in to a tent camp on public land from the east coast.
Each day we saw big numbers of tahr and several bulls presented opportunities. John's advice on trophy quality and knowledge of tahr behaviour was invaluable and enabled me to harvest an excellent 13" bull on day-3, having passed up several lesser bulls earlier. John runs a well set-up camp and mixes great cocktails! I hope I can hunt with him again someday." Paul Brown
Testimonial from Rex Addenbrooke (Tahr Hunt)

"An adventure from beginning to end. Physically challenging, successful beyond our expectations and a ton of fun. All four members of the party bagged Bull Tahr, saw large numbers of animals and learnt a lot about Tahr hunting from John. His advice was great. Being up in that magnificent high country was as memorable as the hunting and more than made up for the times when feet were frozen and muscles were sore. The wintry conditions definitely added to the adventure.
Deciding to use a guide and then choosing John Royle was the best decision the party made particularly as we had limited time. John's local knowledge is huge so he put us where there were good numbers of animals and we had every chance of success. What John couldn't do was make the mountains lower, stop it from snowing , warm up the rivers and make us shoot straight !!
We saw over 100 tahr ranging from bulls to groups of nannies and young animals and we had the opportunity to observe them properly. What an amazing animal to see in its own domain." Rex Addenbrooke

Testimonial from Troy Holtorf (Phoenix, Arizona)
I am a big game bow hunter and I thought I had seen my fair share of quality mountains and quality animals.  Then I went to New Zealand and hunted with John Royle, the man who has spent more time in the "bush" than in his own home.  Better yet, the "bush" is his home.  John is a savvy guide who is full of knowledge and experience.  He redefined "hardcore" when it comes to hunting.  I went to NZ for 21 days and hunted for almost 2 weeks solid.  We were in animals every day and that was not by chance.  John had us hiking and backpacking into remote areas where the wildlife flourished.  The views were unbelievable.  A picture will simply not capture the mystique and beauty of the crystal clear rivers, snow-capped mountains, luscious green foliage, and towering waterfalls.  As far as the hunting went, my buddy and I bagged 6 animals total.  We were able to take every species we were after.  I was set on killing everything with my bow but soon realized how difficult of a task that would be especially with the time constraints.
I was fortunate enough to kill a tahr with a rifle and a few arrows and finally a red stag with my bow on the very last day of the trip.  One thing is for sure, John will put you in positions to kill.  I also had a chance to kill a record book chamois but missed (6 times total).  John Royle took what I called a "dream hunt" and made it a reality.
The proof will soon be on the wall at my house.  Every time I go in that room I will remember all the emotions, feelings, and details of that hunt--the sore legs, the breath-taking mountains, the endless cans of tuna, the "lion roars" of an approaching stag, and better yet John's Aussie voice yelling "Geooorgie!" (his hunting dog).  John did a fabulous job of captivating what a true hunt is all about and how it should be done, from start to finish.  I am so lucky and blessed I was able to be a part of this.  Thanks, John.