Chamois Hunting in New Zealand
Chamois Rupicapra rupicapra were introduced here as a gift from Emperor Franz Josef in 1907 and released in the Mt Cook region of the South Island. They are a popular hunting prize in their native Europe which was why they were liberated here. Chamois live mostly in alpine regions but sometimes can be found close to the sea. They are extremely wary animals and will vacate the area as soon as they suspect danger is about.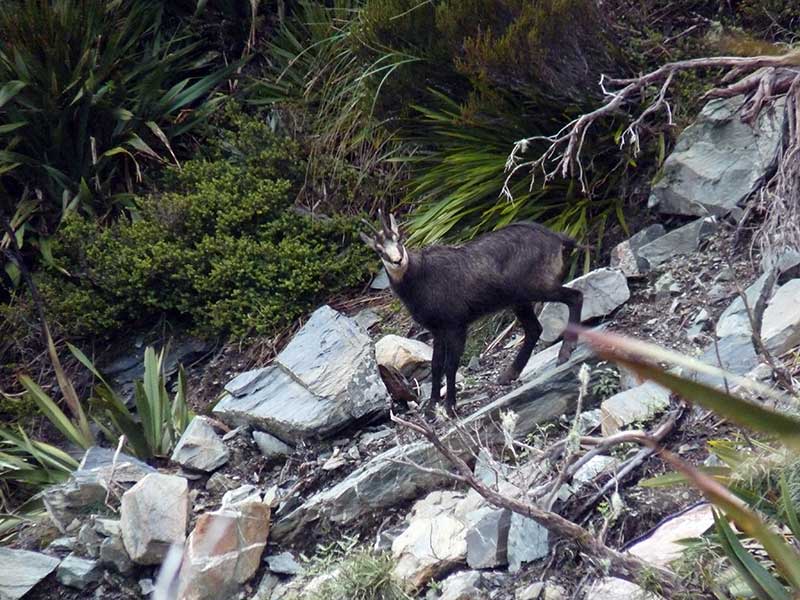 Chamois don't do well in captivity and so are still mostly hunted the hard way. They are by far my favourite animal to hunt as they are the most cunning of the alpine species I have hunted. Like Tahr, Chamois were only liberated in the South Island. This herd is the only wild herd in existence outside their native habitat in Central Europe.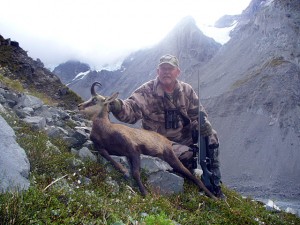 Like the Tahr, both the male and female have horns (the bucks are slightly thicker) which is their most characteristic feature as they grow almost vertically and curve near the ends to form sharp hooks. Male Chamois (bucks) live a mostly solitary existence and only tend to join the female groups for the rut mid-April through to June.
Chamois are well known for their keen eyesight and sure-footedness they can negotiate steep rocky faces with ease, often at considerable speed. During the day they tend to bed on a vantage point giving them a commanding view of all approaches to the area making it difficult for the hunter to approach from below.
"I had an interesting encounter with a buck Chamois whilst in my early culling days in the Murchison mountains. I was traversing a high tussock ridge top when my 3 hunting dogs bailed this buck on a large rock. As I watched on the buck was playing "king of the Castle" with the dogs. He would rear up on his hind legs and charge the dogs run off a few metres before returning to his place on the rock. I laid my rifle aside and looked on with interest. This was obviously the only entertainment the buck had had for a while as he was in no hurry to leave. Eventually he made off, slowing down a few times to let the dogs catch up before effortlessly burning them off as he bounded across the basin. It was one of those special hunting moments that I cherish to this day." John Royle, NZ Hunting Guide
"From start to finish my hunt with John was full on, especially securing a great chamois! Big country, big days, and awesome company made for a very rewarding hunt. To anyone thinking of using John's guiding services, I can personally recommend the "Tahr hunting guide". Securing a trophy chamois buck was a dream come true for this North Island lad, and all on public land." Yours sincerely, Murray Fraser
Chamois Photo Gallery