Hunting Wild Goats, Sheep, Wallabies & Pigs in New Zealand
I can take you on some exciting small game hunting including hunting the wallaby in tussock country, wild boar and goat hunting.
Wallaby Hunting in New Zealand
The red-necked or brush Wallaby Macropus rufogrisea was liberated around 1874 in the Hunter hills near Waimate. Wallaby shooting offers top sport as it is really fast action in open tussock country and will really test your shooting skills as well as providing the opportunity to secure a unique trophy. I thoroughly recommend adding a day or two of Wallaby hunting to your trip.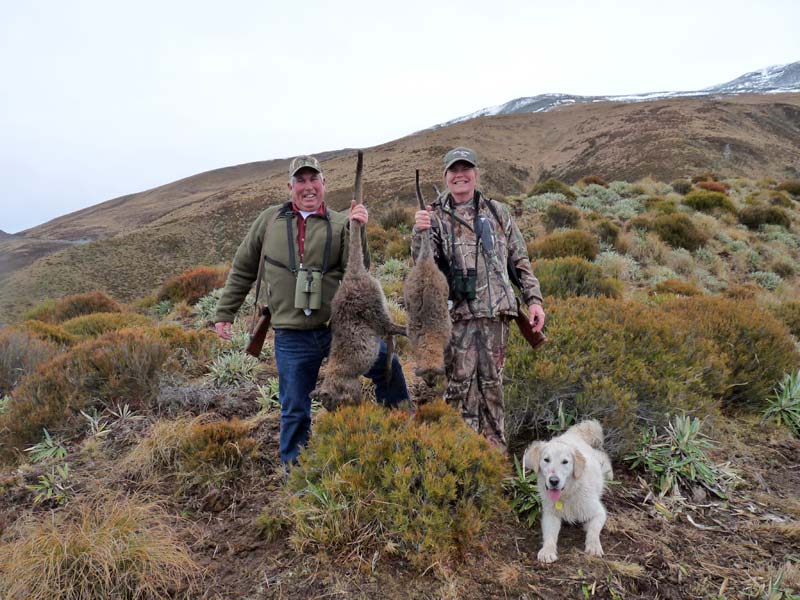 We had the pleasure and some sore leg muscles when we hunted Wallaby with John. He is a true hunter and made the hunt a challenge. He knows his profession very well and loves what he does. If you're thinking of a New Zealand hunt be sure you check him out. He did his very best to ensure we would see Wallabies and Larry ended up with three! Thank you John for a great time it was a good end to a great trip! Larry & Tara Grassman, U.S.A

Wallaby Image Gallery
Wild Pig Hunting in New Zealand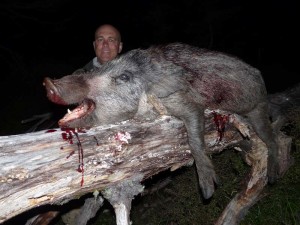 Wild pigs Sus scofa were liberated here in New Zealand by Captain James Cook on his second voyage to the country back in 1773. The European Wild Boar is a large coarse-haired animal standing 36 inches at the shoulder and can weigh up to 250 – 300 lbs. It often has a pronounced dorsal crest (razor back) which we Kiwis refer to as a "Captain Cooker". Some of the areas I hunt for free range Chamois and Red Deer also hold a good population of wild pigs and should they be encountered can be included as a bonus trophy as part of your hunt, or can be targeted separately.
Wild Goat Hunting in New Zealand
Wild Goats Capra hircus were liberated here by Captain James Cook back in 1769 and are well established in both Islands.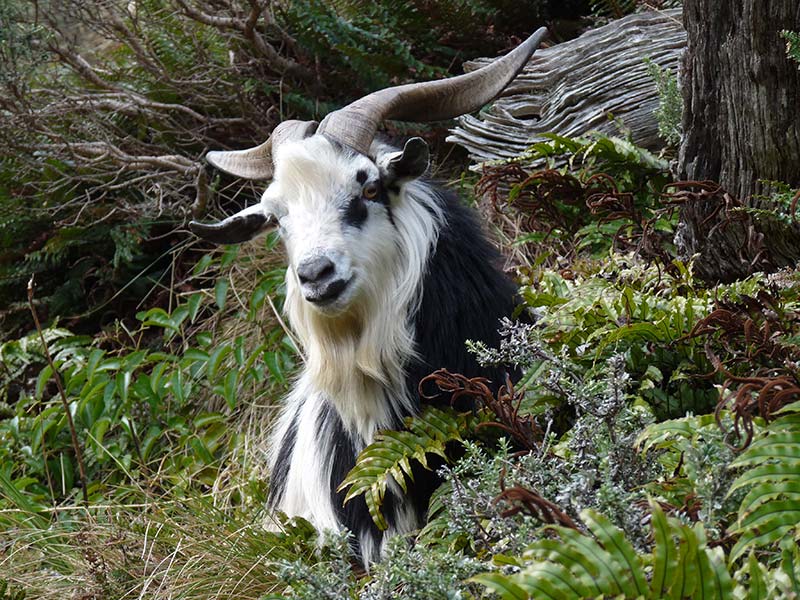 The area I hunt for goats is in the northern part of the South Island. The scenery is breath taking with good access into the hunting grounds. Goats are often encountered in large groups and it's not uncommon to see groups of twenty plus animals of mixed sexes. Compared to other game species wild goats are generally much easier to approach and therefore make an idea trophy for bow hunting. Chamois, pigs and numerous red deer are also often encountered during these goat hunting trips, sometimes offering the unexpected bonus of picking up other games species. This makes for an exciting hunt, as one never knows what you're going to encounter. Over the course of my professional hunting career I have spent more time hunting wild goats than every other game species I have hunted put together, so it is with a high degree of certainty that booking a trip with me hunting for a wild goats will put you in a position to take this trophy.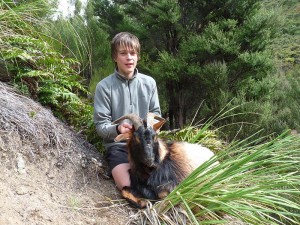 Wild Sheep hunting in New Zealand
Sheep were first brought to New Zealand as farm stock during the earliest times of European settlement. The first sheep were brought to New Zealand by Captain James Cook. Some of those original descendants form part of the bloodlines of what some people call the Arapawa Island sheep. Most of these sheep have since been removed from Arapawa Island and taken into captive breeding programs on the mainland to produce Trophy animals for hunting estates. These Arapawa Island sheep are the species most New Zealand safari parks (behind a high fence) operators use.
In recent times some private blocks have released Arapawa Island sheep onto their free range hunting blocks. One of the properties I guide on for free range Red and fallow deer also has a wild herd of these sheep available for trophy hunting.
The majority of the free range sheep hunting opportunities come from the domestic Merino sheep species. During the development of farming in areas of rough and party fenced country it was inevitable that some of these animals would eventually stray and become wild. Today most wild sheep can be found on the mainland, either in the central North Island or the South Island high country. But it is in on the remote Chatham Islands where our most recognised free range wild sheep can be found. I offer my clients to free hunt wild sheep either in the central South Island or on the remote Chatham Islands by special request.